Amplify your impact with hirers, elevate your LinkedIn visibility, strategise your next move.
Resumes | Interview Coaching |Branding | LinkedIn | Career Design
Fully-Optimised LinkedIn Profiles – Bring Recruiters to You
90% of recruiters are on LinkedIn. Are you?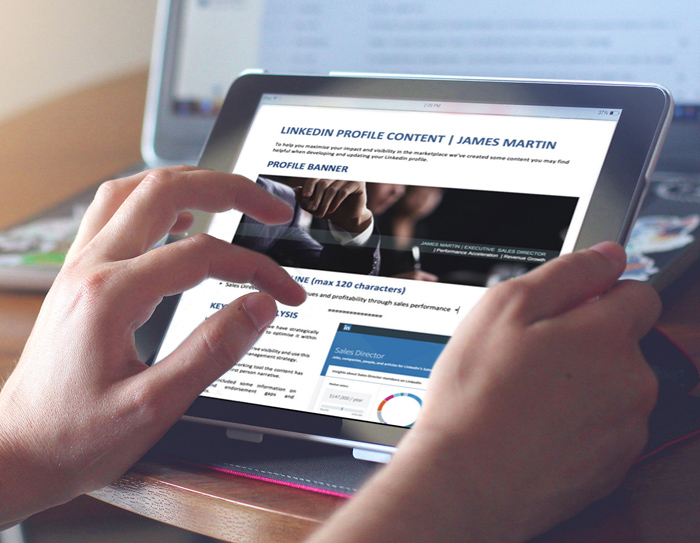 "Just hours after updating my LinkedIn profile with the adopted recommendations I was contacted by multiple recruitment companies offering me positions and I have an interview in 2 day's time for my dream job!  Thank-you!" 
With over 500 million members in more than 200 countries, a LinkedIn profile is now a career essential if you want to be found by recruiters and employers looking for the right candidate.
But there's more to attracting hirers than signing up and creating a basic profile — you need a professional LinkedIn profile that helps you stand out from other candidates and ensures they know you're the one they've been looking for. That's why our LinkedIn profile writing service is such an investment in your career, as our writers create profiles that help you attract attention and set yourself apart from the competition.
A credible, fully optimised LinkedIn profile will help to build your impact and authority. Our professional LinkedIn profile writers will work with you to identify your target audience and create an optimised profile that maximises your reach with those who count.
An experienced LinkedIn profile writer at The Career Agency will consult closely with you to:
Design a high-impact LinkedIn banner to reinforce your brand identity
Assess your headshot and other profile high-impact touch points
Curate an optimised headline and engaging summary section
Review your skills and keywords to pinpoint missing opportunities
Craft appropriate employment content
Develop strategies and suggestions for groups and actions to increase your visibility
Writing LinkedIn profiles that highlight a candidate's knowledge, credibility and expertise and builds trust with employers and recruiters is a skill, one that our writers have honed over time. Our LinkedIn experts can also coach you, helping you to maximise your LinkedIn exposure to connect with recruiters and potential employers on the world's largest professional networking platform.
When you're ready to step up your LinkedIn presence with a professional profile, contact the LinkedIn specialists at The Career Agency.
Let's Get Your New Career Underway! Contact The Agency Today…
WE ARE THE CAREER AGENCY.
READY TO START SOMETHING?
Say Hello. What are you waiting for?